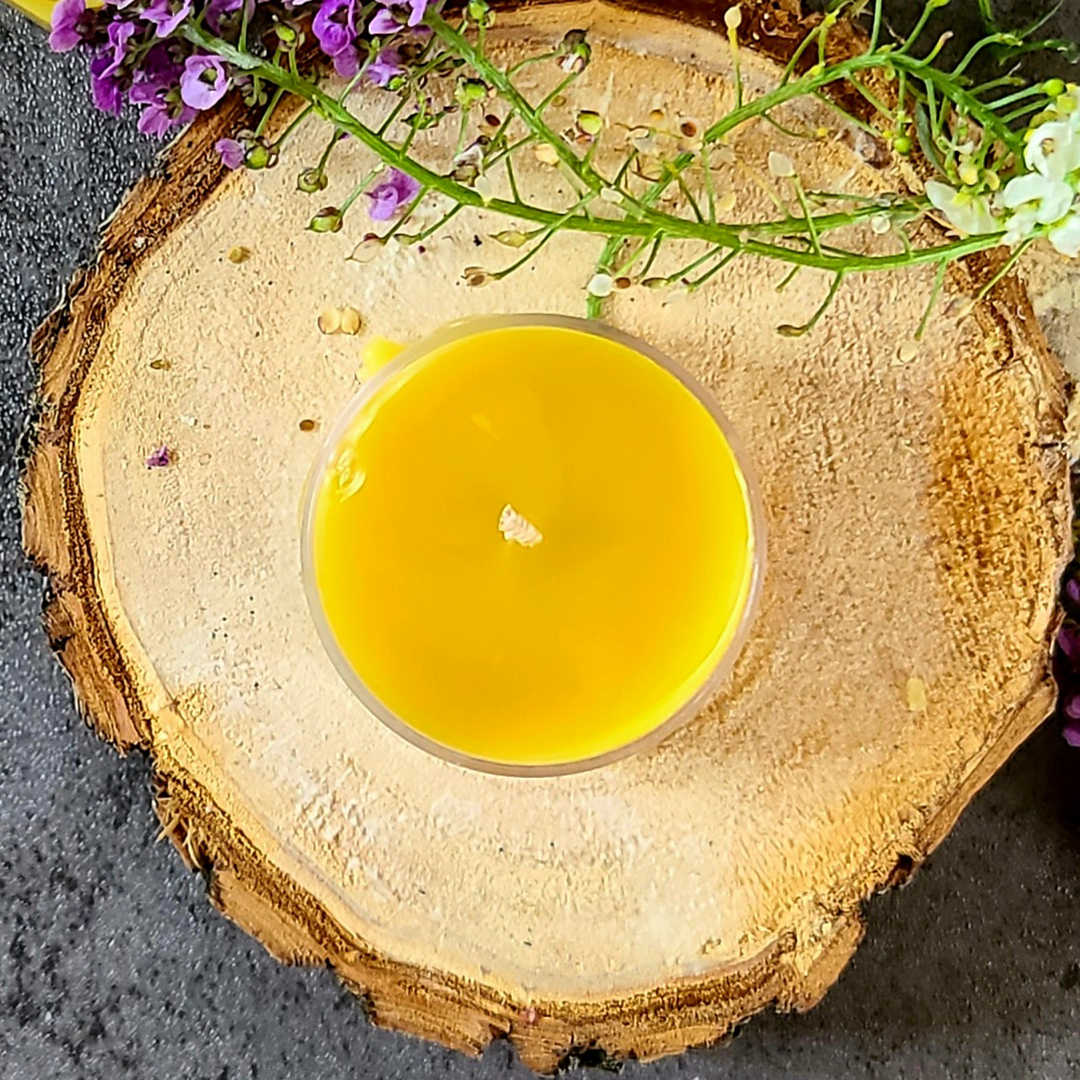 The Purist - 100% Organic Beeswax Tea Lights
Regular price

Sale price

$15.00

Unit price

per
Hurrify, only a few left:
Currently there are
people are currently looking at this product
The Purist is Bee Coco Candle's only naturally scented candle, with the natural sweet smell of honey. There are plenty of other "cheaper" beeswax candles that state "pure beeswax", however that can legally mean that the candle includes up to 49% paraffin. Bee Coco Candle is 100% organic and sustainably sourced from California.
Each candle is handcrafted and hand-poured in small batches. We do not add any fragrance to our beeswax. 
We only use 100% raw cotton wicks. 
When burned, beeswax emits negative ions that naturally purify the air, making it the cleanest burning wax available. 
This is truly a purist with a natural light honey fragrance as it burns.
Beeswax candles are reputed to have several health benefits, including:
Lower Toxicity: Because beeswax candles are all natural, they do not produce toxic byproducts and heavy soot when burned. Some types of candles produce minute traces of chemicals known to be carcinogenic, but this is not a problem with beeswax candles.

Neutralizing Pollutants: Beeswax candles produce negative ions when burned, and those ions help to neutralize pollutants in the air. This helps eliminate dust, odors, and mold in the atmosphere, easing allergy and asthma symptoms and improving breathing for anyone nearby.

Relaxation: The simple act of burning a candle has relaxing properties and can aid in stress relief and meditation. The mildly sweet, natural honey scent of beeswax candles can aid that relaxation without being overwhelming as artificially scented candles can become.

Safety: Because beeswax candles are all natural and produce no byproducts, they are naturally dripless when used properly and are thus safer to burn. This avoids the risk of burns and other injuries that can result from burning other types of candles improperly.

Light: Beeswax candles have the brightest, purest light of any candles and are closest to natural sunlight. If the candles are to be used as a light source, this can help minimize eye strain and reduce headaches.
_____
Fragrance Notes
Bee Coco Candle beeswax jar candles are 100% natural. There are no 
essential oil infused fragrances added. Just the natural light honey scent of beeswax.
_____
Burn time
6 hours per tea light roughly
_____
Dimensions
Tea Lights: 1.5 inches in diameter x .75 inches high
10 per container
_____
Lead-free 100% Cotton Wick
_____
Disclaimer
Each Item is handmade by me in my small candle studio in Bartlett, IL. Since all Bee Coco Candle items are handmade you may notice some imperfections such as minor discoloration of the wax, slightly off-centered label, tiny markings on the outside of the jar, even some slight melting in shipping. Rest assured, none of these impact the quality of the candle.
6 available

The Purist - 100% Organic Beeswax Tea Lights
Regular price

Sale price

$15.00

Unit price

per