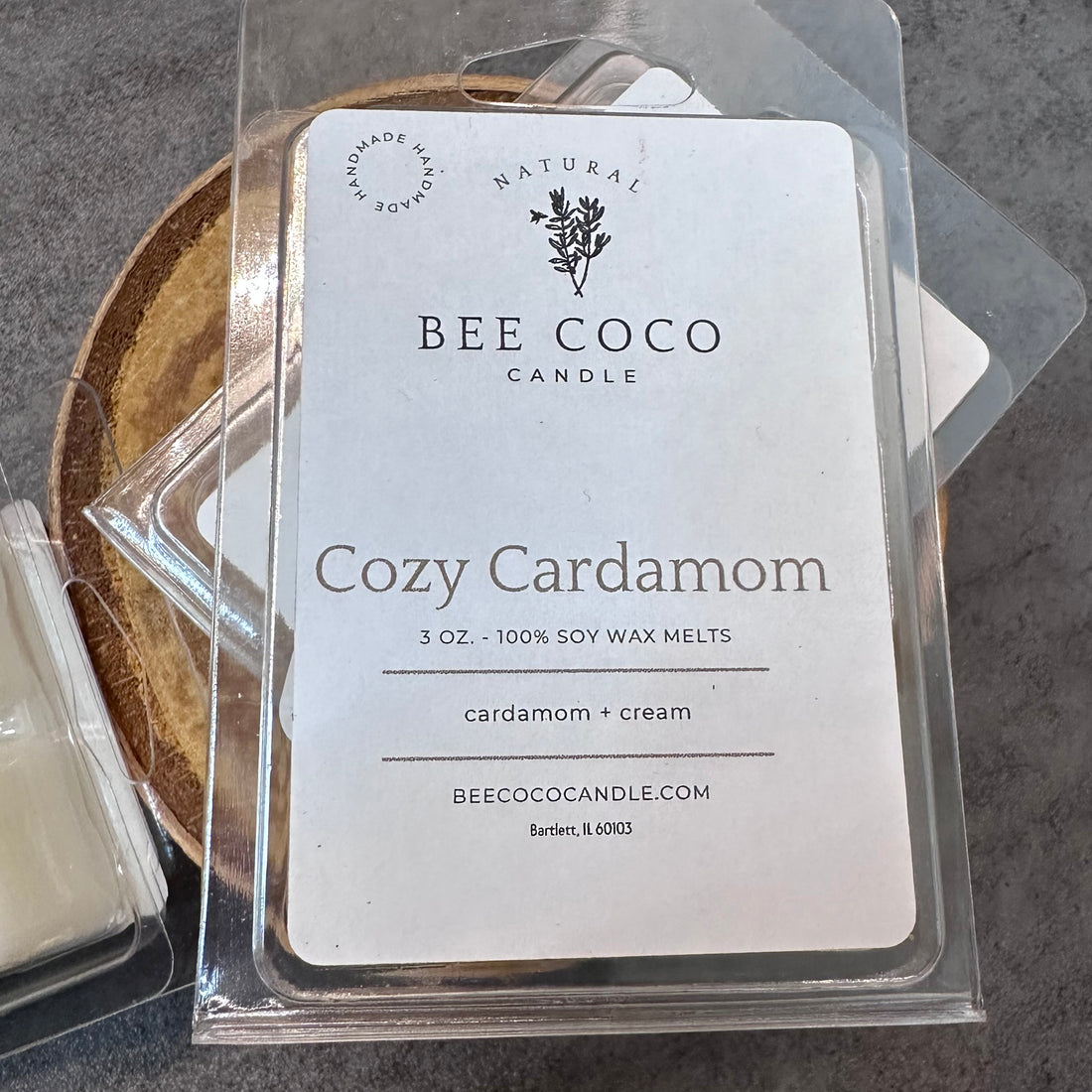 Cozy Cardamom Wax Melts
Regular price

$7.00

Sale price

$5.00

Unit price

per
Hurrify, only a few left:
Currently there are
people are currently looking at this product
From cookies and cakes to warm homemade bread, cardamom is a spice that brings warmth and depth to many dishes. Cardamom also brings a feeling of cozy calmness and has been used in traditional aromatherapy since 3000 BC. Cozy Cardamom by Bee Coco Candle is a gourmand treat, infusing rich cream with black cardamom, cinnamon, and chestnut for a delightful treat. This tasty scented natural candle will definitely enhance any atmosphere year round. Not to mention, all of Bee Coco Candle fragrances are clean scents. Each clamshell contains 6 cubes that easily snap out of container. Melting 2 cubes can last for days!
_____
Fragrance Notes
Top: Peppercorn, Cinnamon
Middle: Ginger, Cream, Black Cardamom
Base: Wood, Tonka Bean, Chestnut
This fragrance is infused with essential oils, including cardamom oil.

_____ 
Phthalate and Paraben Free: Yes
Cruelty Free: Yes
_____
100% Soy Wax
Our melts are made with pure soy wax from soybeans grown in the United States. 
_____
Cardamom in aromatherapy:
1. In traditional aromatherapy, the scent is thought to improve concentration and to fortify mental functioning. 
2. It is considered to be a calming tonic for the mind and emotions. Cardamom soothes nervous tension.
3. The scent is effective in relieving nausea and vomiting associated with both pregnancy and chemotherapy.
4. The scent can help one to feel more grounded.
5. As an aphrodisiac, it revives appetite for life. The spicy scent brings clarity to the mind and the earthiness awakens our sensual side. The scent works well in a sensual massage.
6. The scent promotes respiratory health and can bring relief from coughs
_____
Dimensions
2.75"W x 4.25"L
6 wax melt cubes: 1" x 1"
3 oz. net weight of wax
_____

Disclaimer
Each Item is handmade by me in my small candle studio in Bartlett, IL. Since all Bee Coco Candle items are handmade you may notice some imperfections such as minor discoloration of the wax, slightly off-centered label, tiny markings on the outside of the clamshell, even some slight melting in shipping. Rest assured, none of these impact the quality of the candle.
5 available

Cozy Cardamom Wax Melts
Regular price

$7.00

Sale price

$5.00

Unit price

per